Lean Six Sigma Training
Creating a better perspective that enables you to achieve great results
Lean is about . . .  Looking at the timeline, from the moment the customer gives us an order to the point when we collect the cash. And we are reducing this timeline by removing the non value added wastes.
  Taiichi Ohno (1988) Toyota Production System, Productivity Press.
Introduction
Lean is a Growth strategy, committed to Customer Value, deployed by all employees that:
Utilise the 5 Lean Principles
Reduce/Eliminate Non Value Added Business Activities
Release Capacity, improve Productivity and enable Competitiveness and Growth.
We offer the following two dynamic levels of Certified Lean Programs:
Lean Yellow Belt: provides a foundation in Lean Thinking.
Lean Green Belt: provides advanced Lean Tools that will result in the execution of a Medium or Large Lean Project.
Certified Quality Programs:
One of the key sources of waste is "Defects". We offer certified Six Sigma programs that focus on Quality Improvements. Check out the link here to find out more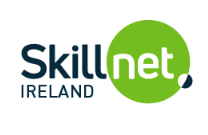 Crystal Lean Solutions are approved Training Providers with Skillnet. To find out more about our adaptable approach to any of these programs and funding available to you, contact us today.
Let's Talk: Contact Us Today +353 (0)87 6226899