International Men's Day
In celebration of International Men's Day a Number Of Our Team Presented Who They Most Admire And Why.
All in the pursuit of helping others
My colleague initially had a tough time trying to decide who he should write about as he sees inspirational people – men and women – everywhere. Trying to single one out is a difficult task. Instead, he decided to mention a few men who have inspired him for similar reasons:
"Nelson Mandela – leadership and commitment in the face of extreme hardship. 27 years in prison didn't douse the flames of his passion for the future of South Africa.
Martin Luther King Jr. – I've heard Dr King referred to as the man who should be the fifth face on Mount Rushmore, as his impact on the history of the USA is that significant. At a time when the civil liberties movements were perhaps in their infancy, his preaching for non-violent protest in the face of incredible provocation is still, more than 50 years on, an exemplar of patience, commitment, leadership, and vision.
John Hulme – I was lucky enough to hear Mr. Hulme talk in person maybe 15 years ago. A quietly spoken, perhaps unassuming figure who did more for the peace process in Northern Ireland than anyone. His idea of bringing economic improvement in the region through foreign investment, primarily from the USA, and insisting on a non-violent approach throughout was truly visionary.
This is only three from a list that could go on for many pages, but what they share is dedication and commitment to an ideal that they pursued over the long-term, with no thought other than the betterment of conditions for whole communities, if not nations. Each of them appears humble and selfless, but with razor-sharp intellect applied to a vision from which they never wavered. All in the pursuit of helping others."
The Inspirational Leader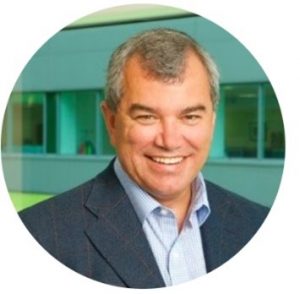 "The person I would like to recognise on International Men's Day is Gerry Collins, currently the Global Platform Leader Patenterals at Janssen, Pharmaceuticals Companies of Johnson and Johnson. I joined Gerry's team in Alza (Johnson and Johnson) as Process Excellence Leader in 2005 and found Gerry's style exemplified that of a Lean Leader to aspire towards. Gerry inspired his team and the entire organisation with his principled based approach, including:
Consistency and Fairness: Everyone was treated the same with consistent messages communicate whether in a one to one conversation or a town hall meeting.
Living the J&J Credo: The J&J Credo was integrated into all aspects of the business and was a live part of day to day life under Gerry's leadership.
Process and Data Focused: Relentless focus on making decisions based on fact. All metrics and systems were viewed as equal including Safety, Customer, Quality and Cost  and aligned to the business objectives, for which everyone had an opportunity to contribute towards.
Optimistic: Regardless of the scenario, irrespective of how a situation could be perceived, realistic optimism prevailed.
Succession Planning: To continuously improve the organisation was balanced with the provision of opportunities to be involved in all aspects of the business. Following Gerry's leadership, his team prevailed in their own future careers include roles of General Manager, Regulator Director, Business Owners, Safety Director and many more."
Exceptional Characters
A little like my previous colleague, this colleague also found this hard to narrow down as he daily encounters inspirational people and never break them down into gender, but now after reflecting on it, he can come to the following:
"Based on this character perspective, two men would come to mind.
AP McCoy –  I have followed his career over the years and read his book as a result. His tenacity to succeed in a sport where the odds of a bone crushing fall are 10 to 1, which when calculated on the number of horses he rode on an annual basis works out at one fall a week. In addition to this to maintain his fitness levels and weight and become champion jockey the number of times he has requires a huge mental strength and belief.
Brian Cody – Again a man who has stood the test of time in a competitive arena, I have heard Brian Cody speak about leadership and I admire his simple philosophy of truth and his method or measuring 'workrate' in his team. He uses stats such as number of blocks and hooks, amongst others, as a leading KPI of winning a match and his ability to combine these stats and  instil his values to a panel of high level sportspeople to manage their behaviour, accountability, and effort in an amateur sport is truly admirable.
Both men are inspirational due to their longevity at the top of their respective sports along with their ability to inspire either a ½ tonne of racehorse to perform beyond the sum of its breeding, physical, and mental capacity to win, or continually develop a panel of amateur sports people to train & compete with an intensity and belief in themselves to a point where you can never take them for granted. All of this is carried out with an air of humility and respect for their competition and charges that never wavers, along with total control of their emotion to enable them 'to stay in the moment' is a measure of their exceptional character."
Inspiration to Young and Old
Michael D Higgins, President of Ireland is who I most admire.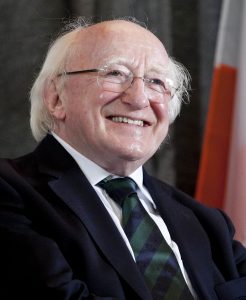 Coming from a non privileged background he was reared by his Aunt and Uncle in County Clare, he proceeded to become the 9th President of Ireland and is now in his 2nd term. He went to University, he became the first Labour TD in Galway having a great interest in social issues.  I know personally that he never forgot the people who were kind to him when he needed it and helped him along the way and as the President of Ireland he is an inspiration. I was lucky enough to have had the privilege of meeting Michael D and with the softest hands he has the softest heart. He is an inspiration to all young and old.
Happy International Men's day from the CLS Team to all the inspirational men that create value for others in their day to day lives.